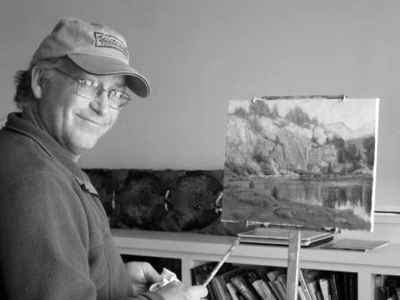 "Painting is all I want to do," Bart Walker states simply, "and I want to do it well. Living in Teton Valley, I'll never run out of beautiful places to paint." Walker paints the allure of the wild land.

Walker is a painter of the outdoors. He uses oil sketches done in the field to recollect nature's beauty on a finished canvas. His radiant plein air paintings are reminiscent of early California impressionist landscapes, alive with deft brushwork and soft nuances of light. Both his father and older brother are accomplished painters. If talent is not inherited, certainly sensitivity and perseverance were qualities modeled at home.

Workshops with distinguished artists such as Scott Christensen, Tim Lawson, Robert Moore, Matt Smith, Skip Whitcomb, and others have helped him develop his talent. "Now that I know the basics, I want my canvases filled with my own spirit." Bart Walker makes his home in Teton Valley, Idaho with his wife Tracey.