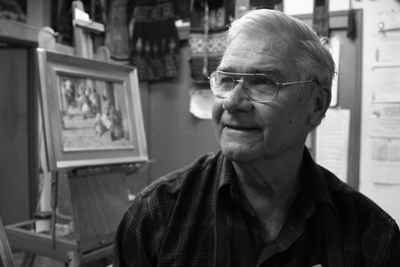 Ned Mueller was raised in Montana, and has been drawing and painting most of his life. He graduated from the Art Center School of Design in Los Angeles where he taught drawing while still a student. He paints a wide range of subjects in several mediums. Ned worked as an illustrator for 25 years and has been a successful full time artist since 1984. He enhanced his knowledge and skills by taking workshops with master artists Harley Brown, Richard Schmid, Bettina Steinke, Delbert Gish, and Sergei Bongart.

"I love the challenge of painting outdoors and trying to capture a feeling, the changing light, the activity around me, and orchestrating it all into an interesting and beautiful arrangement of shapes and colors. The activity and color of a busy harbor, street scene or market can keep me creating new work for months. The feeling of being there, the sounds, the smells and the emotional connection make the freshness and spirit of plein air painting very special."

Ned has written articles on painting for Artists Magazine, juried shows, and is a popular and enthusiastic teacher of painting workshops around the country and abroad.
He is a signature member of Plein Air Painters of America, Portrait Society of America, the California Art Club, the Northwest Watercolor Society, Northwest Pastel Society, Northwest Rendezvous Society, Laguna Plein Air Painters, Puget Sound Group of Northwest Painters and the American Society of Marine Artists. He has been designated a Master Signature Artist by the Oil Painters of America.

He exhibits his work in some of the finest galleries in the country and has won numerous awards. Mr. Mueller continues to challenge and improve his work on location and in the studio.