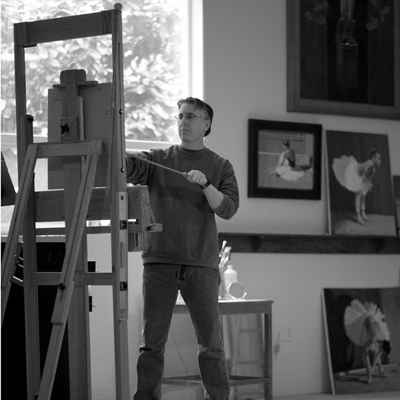 Eric Bowman was born in Pasadena and grew up in Orange County, California. Essentially a self-taught artist, Eric had a knack for drawing as far back as he can remember, always the class artist throughout his elementary and high school years. Various art-related jobs such as silk screen T-shirt printer or surfboard airbrush technician led to a lengthy and successful career as a commercial artist, eventually transitioning to fine art painting.



Eric's style of painting is a mixture of Impressionism and Realism. His stylistic influences are the Russian Impressionists and various American Impressionists of the last century. He is equally adept at both landscape and figurative painting. Light and shadow play a crucial role in solidifying his compositions.



He has garnered many awards in juried competitions, showing in national and regional exhibitions in some of the country's most prestigious galleries and museums. His paintings are in collections around the world, including England, Australia, Canada and Mexico.



Eric is a Signature Member of both the American Impressionist Society and the Laguna Plein Air Painters Association, and an Out-of-State Member of the California Art Club. When not traveling to various plein air shows or visiting his beloved home state of California, Eric resides in northwest Oregon with his wife and daughter, and their dog, Mucha.